2018 Salute to Service Archive
January 2018
The Division of Fire Safety salutes the service of Fire Equipment Dispatcher Rodney Edwards of the St. Louis Fire Department. Rodney's story of hard work, resourcefulness and perseverance is an inspiration to all. In 2007, Rodney lost his job and his home and wound up living in a dilapidated abandoned home. He was estranged from his family. He would remain homeless for two years, but he never gave up.
Rodney applied for and received a grant to attend St. Louis Community College – Forest Park. He showered, shaved and brushed his teeth at the school gym – and made the dean's list.
Rodney entered an EMT program and got a job with the Northeast Ambulance and Fire Protection District. He continued his studies and earned an Emergency Medical Dispatch certificate in 2012. He later got a job with the St. Louis Fire Department as an emergency medical services dispatcher and then was promoted to fire equipment dispatcher in late 2017.
"It's an honor to wear this uniform," Edwards told KMOV-TV. "They saw I had drive and I had hustle, and I believed in the culture and the core values of the fire department."
To learn more about the St. Louis Fire Department visit the department's Facebook page.
February 2018
The Division of Fire Safety salutes the service of Battalion Chief (Emeritus) Larry Wilson of the Boone County Fire Protection District. Larry's legacy of service to the public, commitment to the fire service, and public safety education span more than a half century.
Born and raised in Columbia, Larry first became a firefighter with Centralia Fire Department in 1960. He joined the Boone County Fire Protection District in 1968. Larry was promoted to Station Captain at BCFPD Station 1 in 1977 and was the department's first safety officer.
Larry was promoted to battalion chief and currently serves as chair of BCFPD Safety Officer and Safety Committee.
Larry also worked for the University of Missouri Fire and Rescue Training Institute for 22 years, serving as MUFRTI's industrial specialist and later as a part-time instructor before retiring in 2010.
Larry has a true gift for sharing his passion for the fire service with others and mentoring firefighters of all ranks and backgrounds. His wisdom, kind heart and warm personality have affectionately earned him the title of "Pops" to those who know him best.
Larry married his wife, Joyce, in 1954 and together they had five children – Mike, Vicky, Russell, Mark (deceased) and Ronald (who died as baby). They have seven grandchildren and one great-grandchild.
It is our honor to recognize Larry Wilson in our February Division of Fire Safety Salute to Service.
To learn more about the Boone County Fire Protection District visit the department's Facebook page.
(Larry and State Fire Marshal Bean are pictured with BCFPD Chief Scott Olsen.)
March 2018
Jim Grimm
Trevor Woods
Casey Bridgeman
Jimmy Smythe
Stetson Zelch
Nick White

The Division of Fire Safety salutes the service of six members of the Sullivan Fire Protection District's junior advisors staff who volunteer countless hours to the Sullivan Junior Firefighter Program and annual Junior Academy: Jimmy Smythe (lead adviser), Casey Bridgeman, Jim Grimm, Stetson Zelch, Nick White and Trevor Woods.
The Junior Fire Academy provides realistic firefighter training and exposure to the firefighting culture to youth ages 13-17 who are interested in this career. Some come from as far as Springfield and Kansas City.
The Sullivan Fire Junior Academy is the only junior academy in the Show-Me State recognized by the Missouri Division of Fire Safety Training and Certification Unit. After completing the academy, students receive Basic Firefighter certification from the Division of Fire Safety.
All district members assist, but the core group of advisers dedicates the entire week to the students and ensuring the smooth operation of the academy.
Firefighter Jimmy Smythe has been the lead adviser for the nine years. He's a 21-year fire service veteran, was a longtime career firefighter in Sullivan for many years, and continues to be a volunteer firefighter and junior lead adviser.
Captain Casey Bridgeman has been with the Sullivan Fire Protection District for 15 years, serving as captain for the last five. He is also a U.S. Army veteran, bringing additional leadership to Sullivan's ranks. He's been involved with the junior program for the past eight years.
Firefighter Jim Grimm has devoted 25 years to the fire service. He's been a junior advisor and involved with the Junior Academy for five years. Although he didn't start in Sullivan, Jim began as a junior firefighter and continues to pay it forward, investing his time and effort in the junior program.
Firefighter Stetson Zelch has eight years of experience in the fire service. Originating in Sullivan, he came through the junior program and Junior Academy, and is now a career firefighter in Sunrise Beach. On his off days, he's still very active training juniors in Sullivan.
Firefighter Nick White has invested nine years in the fire service. Nick started as a junior firefighter, progressed to senior firefighter, and is now a career firefighter for the Boles Fire Protection District. On his off days, Nick still invests much of his time to the Sullivan Junior Program.
Firefighter Trevor Woods has been in the fire service for five years. He started as a junior firefighter in Sullivan and continues to pay it forward with his hard work and dedication, mentoring juniors and helping with the Junior Academy.
These six men epitomize dedication and selfless service. They put in the time and effort to ensure the success not only of Sullivan's junior program, but the success of every student that comes to the Junior Academy.
Over the past 12 years, the Sullivan academy has grown tremendously. In the beginning, the Junior Academy typically hosted 10 or 12 students from Sullivan and neighboring departments. Now, classes easily reach 35 students from across the state. In its history, the Sullivan Junior Fire Academy has hosted about 375 students.
The students' week starts on Monday at 0700. There is physical training, classroom instruction and hands-on training. Juniors also participate in daily details, station cleanup, and respond to minor emergencies in order to learn firefighter culture. Most students stay overnight at the fire station all week. Students now graduate on Saturday afternoon, after completing live burns.
You can learn more about the Sullivan Fire Protection District's Junior Program and Junior Academy on their Facebook page.
Pictured above from left to right are: Firefighter Jim Grimm, Firefighter Trevor Woods, Captain Casey Bridgeman, Missouri Fire Marshal Tim Bean, Firefighter Jimmy Smythe (lead junior adviser), Firefighter Stetson Zelch, Firefighter Nick White and Fire Chief Eric Lewis.
April 2018
The Division of Fire Safety salutes the service of Shawn Bice, a career Engineer/Firefighter with the West Plains Fire Department. His efforts to advance his community through work with young people is a shining example of personal commitment that will yield benefits for decades to come.
Shawn started his career with West Plains as a volunteer in 2000. He worked hard and earned full-time status in 2012. He currently works out of Station 2, and is the department's lead safety officer.
In 2007, Shawn and his wife, Allison, established the Mynde N. Tarter Memorial Volleyball Tournament. This co-ed volleyball tournament was created as a remembrance of a wonderful young lady with a beautiful soul and a way to further the education and lives of other young people. Mynde Tarter grew up and lived in West Plains throughout her brief life. An outstanding student, Mynde also played basketball and softball, but her true love was volleyball.
Shawn and Allison knew Mynde through their involvement in West Plains sports teams. Mynde was the girl with the biggest smile before, during and after all of her games. When Mynde was 15, Shawn and Allison asked her to play on their co-ed city volleyball team. Mynde was slated to be a part of the Missouri State University – West Plains Grizzly volleyball team beginning the fall of 2006. Unfortunately, Mynde died in a single car crash just before the school year began in 2006.
All proceeds from the volleyball tournament go to endowed scholarship which Shawn and Allison created at MSU – West Plains in Mynde's name. The endowment is used for any Grizzly volleyball player who meets the need requirements of the scholarship. The first scholarship was awarded in time for the 2008 season. A total of 13 scholarships have been awarded since then, totaling just over $20,000.
The scholarship recipients continue to excel: a nurse in Nashville; the director of Athletic Performance at the LEMO Foundation in Belmont, Calif.; a co-head coach at Chabot College in Hayward, Calif.; a director of volleyball operations at Bethune - Cookman University in Daytona, Fla.; and a professional volleyball player in France.
The three most recent Grizzly scholarship recipients are continuing their studies and playing college volleyball. One is a senior at the University of Arkansas, Fort Smith, one is a junior at Hampton University and one is a freshman at MSU – West Plains.
The scholarship endowment is now more than $100,000. The one-day tournament typically includes 46 teams which come from across Missouri, as well as from Arkansas.
We salute Shawn and Allison for their vision and dedication, along with many hours of service in accomplishing this scholarship endowment, and carrying on the Mynde Tarter dream. This is a true example of serving others.
To learn more about the West Plain Fire Department, check out the department's Facebook page here.
May 2018
Angie Jones
Fire Science Instructor
Hillyard Technical Center
The Division of Fire Safety salutes the service of Angie Jones, Fire Science Instructor at Hillyard Technical Center in St. Joseph, a career technical school operated by the St. Joseph School District. The program Angie manages meets DFS state requirements for Firefighter I and II, First Responder, and Hazardous Material Awareness and Operations and has trained students as young as high school age and placed them in career fire service positions.
Angie started in the fire service in 1995, while still in high school, as a volunteer for the City of Maryville. Upon graduation in 1996, she was hired as a career firefighter and continued in Maryville for 10 years. After a short stint in private industry, Angie was hired at Hillyard Technical Center. She continues in the position today, and serves as an active volunteer member at Maryville.
She also serves as the Region H Training Coordinator for MUFRTI, working to bring quality training opportunities to emergency response personnel in the region. Angie maintains her EMT license to better serve her students and community.
At Hillyard, Angie has trained 20 students who have gone on to work in the fire service. Three of those career firefighters are the youngest ever hired by St Joseph Fire Department, a testament to her dedication as their instructor. Two more students have continued in EMS and obtained paramedic licenses, and work full-time as paramedics and volunteer firefighters. Many more students are serving their communities as volunteers. Six additional students have joined the military.
Angie is married to Aaron, who serves as a Public Safety Officer for the City of Maryville. They have three children with whom they enjoy riding horses and competing in extreme cowboy racing.
We salute Angie Jones for her enthusiasm, dedication and the quality she brings to the fire service and her community.
Learn more about the Hillyard Technical Center Fire Service program here.
August 2018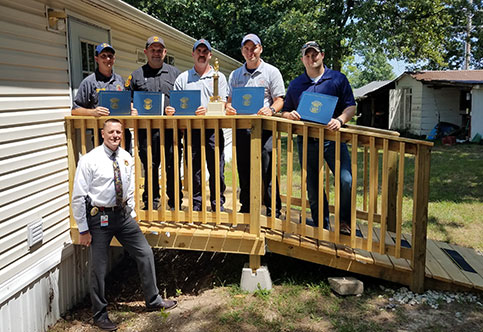 Firefighter Joe Don Wilkes, Waynesville Fire Department
Firefighter Josh Cage, Waynesville Fire Department
Firefighter Malcolm Smith, Rolla Rural Fire Department
Crew Leader Ryan Smith, St. Robert Fire Department
Crew Leader Jeromy Moore, St. Robert Fire Department
Investigator Joshua Hall, Missouri Division of Fire Safety
The Division of Fire Safety salutes the service of six men for compassionately coming to the assistance of a brother in the fire service at a time of tremendous need. The six – Joe Don Wilkes, Josh Cage, Malcolm Smith, Ryan Smith, Jeromy Moore and Joshua Hall – come from different agencies but they share a generous spirit and commitment to supporting others.
In July 2017, Missy Polson was diagnosed with an aggressive form of cancer. Missy was the wife of Justin Polson, a volunteer captain with the St. Robert City Fire Department. Joe, Josh, Malcolm, Ryan, Jeromy and Joshua immediately came together as a team united in their support of Captain Polson, Missy and their family.
The effort was completely in character. The six men were known to generously and quietly volunteer anytime assistance was needed. Now, they would be there to support the Polson during chemo and radiation treatments and all the other tough times that were to come. Whenever a need arose, the team was there to assist.
In early 2018, the group put on a breakfast fundraiser, raising more than $4,000 to support the Polsons. When the local chapter of the International Association of Fire Fighters organized a tee shirt sale to assist the Polsons, the six men worked to boost sales.
In June 2018, Missy's worsening condition meant she was confined to a wheelchair and could not maneuver the steps to her own home. Joe, Josh, Malcolm, Ryan, Jeromy and Joshua went to work. They spent their own money to buy the materials and then built a solid ramp and stairway. Their outpouring of support meant as much to the Polsons as the ramp itself! They knew they were not facing their crisis alone.
Joe, Josh, Malcolm, Ryan, Jeromy and Joshua set an example of what true brotherhood is about. They stepped up to the plate without hesitation and continue to show love and support to Captain Polson even after Missy's passing.
We salute these fine members of Missouri's fire service for their dedication to a fellow member of the fire service and the noble example they provided for all of us.
September 2018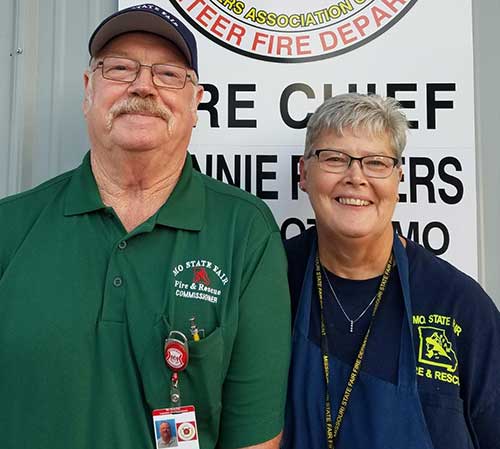 Monty Thompson
Volunteer Assistant Chief
Kearney Fire & Rescue Protection District
Joyce Thompson
Kearney Volunteer FD Ladies Auxiliary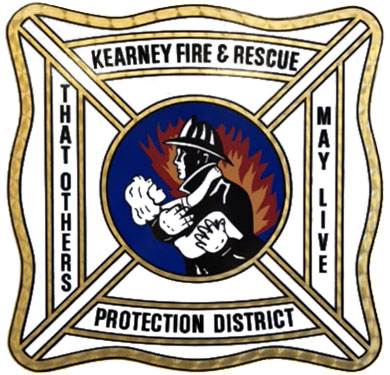 The Division of Fire Safety salutes the service of Monty and Joyce Thompson. Through 48 years of marriage, the Thompsons have served the public through their volunteer work with the Kearney Fire & Rescue Protection District. They've also spent part of 37 summers working at the Missouri State Fair.
In 1970, Monty joined the Kearney district and Joyce joined the Ladies Auxiliary. Forty-eight years later Monty continues to serve the district as a Volunteer Assistant Chief. Joyce continues her work with the auxiliary.
In 1981, Monty received his EMT license. In 2010, he received his Fire Fighter I & II certifications.   Since Kearney did not have an ambulance and the closest one was with the Holt Volunteer Fire Department, Monty would help get patients ready until an ambulance arrived. He also worked weekends at Smithville Hospital.
At the State Fair, Monty worked his way up the ranks, becoming Fire Chief in 2000 of the State Fair Fire Department, a position he held until 2003. He was appointed Commissioner in 2004. In 2005, he became co-chairman with Lonnie Lentz. Following Lentz' death, Monty became chairman of the State Fair Fire Department, a position he still holds.
Joyce's duties with the Ladies Auxiliary have been many; including helping provide food and water to firefighters responding to long calls. She also joined the Fire Fighters Association of Missouri Auxiliary and assisted in numerous responsibilities there. Currently, one of Joyce's roles is overseeing the kitchen and providing three meals a day to more than 250 people during the run of the fair. She always has words of encouragement and raises everyone's spirits!
Monty and Joyce have spent 37 of their 48 years of marriage working at the Missouri State Fair. They have dedicated their lives to helping make the Missouri State Fair a success, and sacrificing their time to serve thousands of meals over the years to people in the youth building, making new friends, and building many strong relationships. Together, the Thompsons exemplify service before oneself.
Monty and Joyce have two children – Stephanie and Chris – and six grandchildren.
To learn more about the Kearney Fire & Rescue Protection District visit the district's Facebook page.