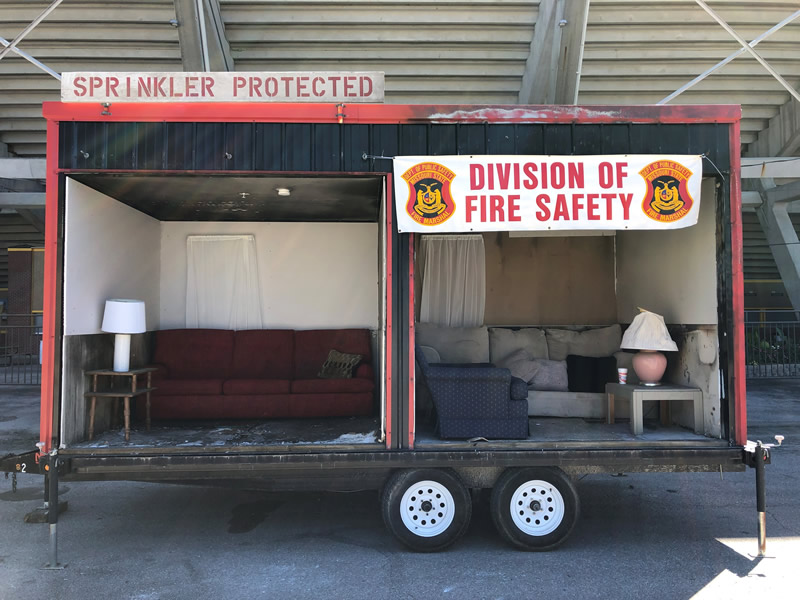 The Missouri Division of Fire Safety has acquired a side-by-side live-fire sprinkler demonstration trailer for use at public relations and community outreach events across the state. Division staff conducted the inaugural demonstration in August 2020 at the Missouri State Fair. Please follow the link below for a video of that event. The intent of this program is to demonstrate the benefit of having home fire sprinklers installed, while also showing the rapid progression of home fires.


Any agency interested in hosting a live-fire demonstration event, please submit your request to firesafe@dfs.dps.mo.gov a minimum of 45-days in advance. Please include in your request, the type of event (fair, carnival, agency open house, community festivals, etc.) and estimated audience size. Your request will be evaluated and you will receive decision notification a minimum of 15 days prior to your event date.


The following must be provided by the host fire department:
One engine company for the demonstration with a 1 ¾ hand line charged to extinguish the flashover fire and to supply the sprinkler system.
Minimum of four personnel to assist with set-up and breakdown of the trailer.
One backup/safety line of equivalent size stretched and available for use.
One qualified apparatus engineer to confirm the water supply to the sprinkled unit.
One dumpster of adequate size to handle furniture.
Two (minimum) firefighters dressed in full protective gear, including SCBA and who will assist in salvage/clean-up.
Traffic cones or barriers to establish a 50-foot safety perimeter around the trailer.
Sound system with microphone.
A power supply for speakers and timer.