County Burn Bans in Missouri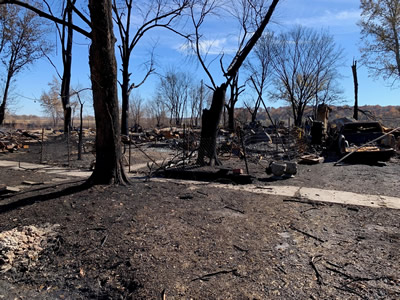 On Oct. 22, 2022 a natural cover fire burned approximately 4,000 acres in Cooper County and destroyed more than a dozen houses and outbuildings.
Each year, thousands of acres of Missouri's natural resources are devastated by wildland fires and the lives and property of Missourians are put at risk. While some of these fires are acts of nature, many are caused by the careless burning of trash, yard waste, and refuse. In 2016, 4,029 wildland fires were reported in Missouri, according to the U.S. Fire Administration. (The actual number could be considerably higher, since 47 percent of fire departments did not report.).
Drought conditions can greatly increase the risk of open burning leading to wildland fires. Burn bans are a tool that can reduce the risk of fires spreading and endangering lives, property and Missouri's natural habitat.
A county, municipality or tax supported fire protection district (as defined by RSMo 321.010) may, within its jurisdictional boundaries, enact an ordinance to issue a burn ban at any time. RSMo 49.266, provides a mechanism for counties to promulgate burn bans through the following process:
The county commission adopts an order or ordinance issuing a burn ban, which may carry a penalty of up to a Class A misdemeanor, based upon a determination by the state fire marshal that a burn ban order is appropriate for the county because:
An actual or impending occurrence of a natural disaster of major proportions within the county jeopardizes the safety and welfare of the inhabitants of such county; and
The U.S. Drought Monitor has designated the county as an area of severe, extreme, or exceptional drought; and
When a county commission determines a burn ban is necessary, the county should contact the Office of the State Fire Marshal by email at firesafe@dfs.dps.mo.gov for confirmation that the ban is appropriate. Please include a brief description of the danger(s) or hazard(s) threatening the county and be sure to include names, phone numbers, and email addresses in the event additional information is required.
Once issued, the county would have responsibility for enforcing the burn ban.
According to RSMo 49.266.3(2), state agencies responsible for fire management or suppression activities and persons conducting agricultural burning using best management practices shall not be subject to the burn ban.
The ability of an individual, organization, or corporation to sell fireworks shall not be affected by the issuance of a burn ban. The county burn ban may prohibit the explosion or ignition of any missile or skyrocket as the terms "missile" and "skyrocket" are defined by the 2012 edition of the American Fireworks Standards Laboratory, but shall not ban the explosion or ignition of any other consumer fireworks as the term "consumer fireworks" is defined under RSMo. 320.106.