Smoke and Carbon Monoxide Alarms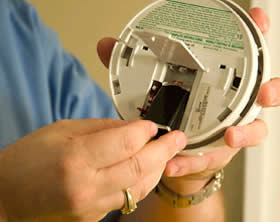 Studies show that more than 60 percent of deadly U.S. fires occur in homes that do not have smoke alarms installed or have alarms that do not function because of missing batteries, dead batteries or some other problem that keeps them from working properly. According to the National Fire Protection Association (NFPA), 40 percent of U.S. residential fire deaths result from fires in homes with no smoke alarms, while 23 percent occurred in homes without working smoke alarms.
National statistics show:
On average, home fires kill 540 children ages 14 and under each year.
80 percent of the children who die in home fires are killed in homes without working smoke alarms.
From 11 p.m. – 7 a.m., when people tend to be asleep and the home is dark, are the peak hours for home fire deaths.
Only 23 percent of U.S. families have developed and practiced a home fire escape plan.
Smoke alarms should be installed in every bedroom, outside each separate sleeping area and on every level of the home, including the basement. The NFPA also recommends that families interconnect all smoke alarms throughout the home so that if one alarm sounds, they all sound.
To ensure fire safety, families should regularly check smoke detectors by pushing the test button, plan at least two escape routes from their homes and practice those escape routes with the entire family. Batteries should be changed at least once a year and tested monthly to ensure that they are operating properly.
Carbon Monoxide Alarms
The National Safety Council reports that nearly 300 people die each year as a result of carbon monoxide poisoning. Carbon monoxide is often referred to as the silent killer, and is an invisible, odorless gas that is created when fuels burn incompletely. In the home, heating and cooking equipment that burn fuel can be sources of carbon monoxide.
Carbon monoxide detectors are designed to detect and warn of the presence of dangerous carbon monoxide gases. Carbon monoxide detectors should be installed on every level of a structure and in a central location near each sleeping area. For the best protection, NFPA recommends interconnecting all carbon monoxide detectors throughout the home, so that when one sounds, they all sound.
If a carbon monoxide detector sounds, families should immediately evacuate to a fresh air location outdoors or immediately get to an open window or open door. Make sure all family members are accounted for and call for help. It is important that families remain evacuated or in their fresh air location until emergency personnel arrive and make sure the home is safe.
To ensure carbon monoxide detectors are working properly, families should check alarms at least once a month and replace alarms according to the manufacturer's descriptions.