Missouri's Volunteer Fire Service Needs You!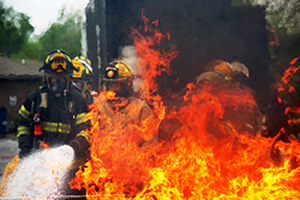 Across Missouri, there is a need for volunteer firefighters—the committed citizens who help save lives and protect the property of their neighbors. While emergency calls are up, in some communities busy schedules and family commitments mean that fewer volunteers are available to answer the alarm.
Why consider being a volunteer firefighter?
The personal satisfaction of knowing you are making a difference for the people who live and work in your community.
No-cost training opportunities for all types of emergency response, including firefighting, medical emergency response, disaster response and water rescue.
An excellent way to receive training and on the job experience in preparation for a full-time firefighter position.
Call the Missouri Division of Fire Safety at 1-800-392-7766 to learn more and be connected with the volunteer fire department serving your community. Across the country, there is a growing effort to recruit volunteer firefighters. The Division of Fire safety is committed to helping educate the public about this important need and the personal satisfaction that comes from helping protect your neighbors.