Missouri Natural Cover Fire Risk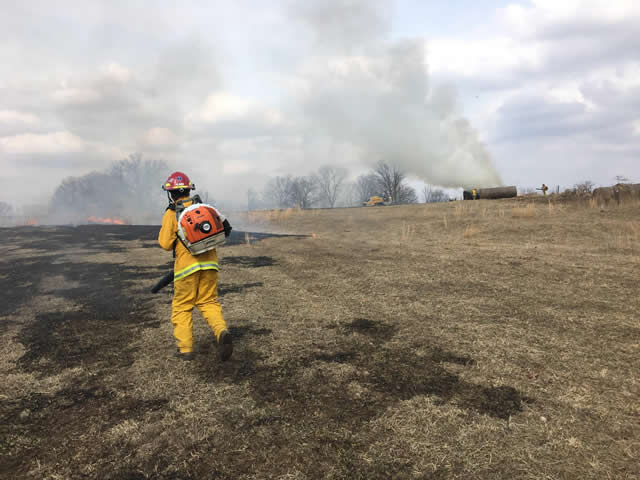 The Missouri Division of Fire Safety, the National Weather Service and local fire response agencies in affected areas of Missouri discourage open burning when the weather service or local authorities advise against burning due to elevated fire risks because of dry conditions.

Whether contemplating the burning of brush or setting a campfire, always consider conditions and whether starting a fire is worth the very real risks to lives and property.

A lack of rainfall in much of Missouri during most of 2022 elevated fire risks and the potential for fires to quickly grow out of control in parts of the state. Natural cover fires put lives and property at risk. On Oct. 22, 2022, approximately 4,000 acres burned in Cooper County during a period of drought conditions, low relative humidity levels and strong winds. More than a dozen houses and outbuildings were destroyed in the village of Wooldridge.

The U.S. Drought Monitor Report dated Oct. 27, 2022, showed that 100 percent of Missouri was in some stage of drought or abnormally dry. The portion of the state that was indicated to be in severe or exceptional drought was more than 42 percent. Missouri's burn ban statute calls on counties in the state to contact the Office of the State Fire Marshal/Division of Fire Safety for consultation before imposing a burn ban.

When a county commission determines a burn ban is necessary, the county should contact the Office of the State Fire Marshal by email at firesafe@dfs.dps.mo.gov for confirmation that the ban is appropriate.

State Fire Marshal Tim Bean urges Missourians to refrain from burning leaves or brush in the areas of our state where the National Weather Service and local officials were warning of elevated fire risks. Any activities that could spark a fire should be avoided.

Natural cover fires not only pose a risk to lives and property, they place emergency responders in harm's way and can delay their ability to respond to house fires, vehicle crashes, medical calls and other emergencies. Smoke from wildland fires can also reduce visibility leading to traffic crashes and create medical issues for people with respiratory conditions.

The Division of Fire Safety continues to discourage open burning whenever the weather service or local authorities advise against burning due to elevated fire risks.
Here's what you can do to help reduce the spread of fires:
Refrain from any open burning of leaves, brush or debris whenever conditions warrant.
Do not wait to call 911 at the first sign of a fire.
Smokers should be extremely careful, extinguishing cigarette and cigar butts completely before disposal. Do not discard cigarettes from motor vehicles.
Secure trailer chains to prevent dragging. A spark in contact with dry grass could start a fire.
Off-Road Driving: Use caution when driving vehicles off-road. Sparks from vehicles or equipment coming in contact with dry grass can start fires in dry conditions. Catalytic converters on motor vehicles can also start fires when they come in contact with fine, dry fuel, such as grass. Always carry a fire extinguisher on vehicles that are used off-road.
Grilling: Use caution with outdoor grilling: Position the grill well away from siding, deck railing, and out from under eaves and overhanging branches. Never add charcoal starter fluid when coals or kindling have already been ignited. Never use any flammable or combustible liquid other than charcoal starter fluid to get the fire going. Periodically remove grease or fat buildup in trays below the grill so it cannot be ignited by a hot grill.
Fire Pits and Campfires: Be extra careful with fire pits and campfires, exercising the same precautions you would with an open fire. Consider the risks before lighting the fire. If you decide to light a fire, check the wind direction. Keep a fire extinguisher or garden hose nearby. Do not overload. Do not burn trash and leaves. Avoid using soft woods that are likely to pop and throw sparks. Remember to make sure the fire is fully extinguished before leaving the area. Embers in the fire bed can reignite a fire.