August 2018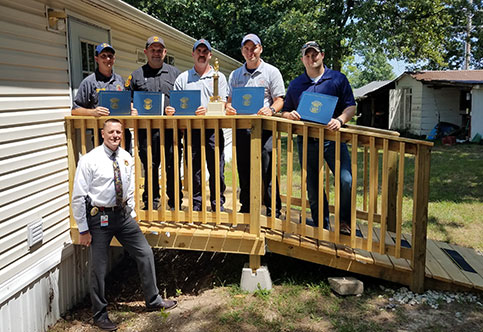 Firefighter Joe Don Wilkes, Waynesville Fire Department
Firefighter Josh Cage, Waynesville Fire Department
Firefighter Malcolm Smith, Rolla Rural Fire Department
Crew Leader Ryan Smith, St. Robert Fire Department
Crew Leader Jeromy Moore, St. Robert Fire Department
Investigator Joshua Hall, Missouri Division of Fire Safety

The Division of Fire Safety salutes the service of six men for compassionately coming to the assistance of a brother in the fire service at a time of tremendous need. The six – Joe Don Wilkes, Josh Cage, Malcolm Smith, Ryan Smith, Jeromy Moore and Joshua Hall – come from different agencies but they share a generous spirit and commitment to supporting others.
In July 2017, Missy Polson was diagnosed with an aggressive form of cancer. Missy was the wife of Justin Polson, a volunteer captain with the St. Robert City Fire Department. Joe, Josh, Malcolm, Ryan, Jeromy and Joshua immediately came together as a team united in their support of Captain Polson, Missy and their family.
The effort was completely in character. The six men were known to generously and quietly volunteer anytime assistance was needed. Now, they would be there to support the Polson during chemo and radiation treatments and all the other tough times that were to come. Whenever a need arose, the team was there to assist.
In early 2018, the group put on a breakfast fundraiser, raising more than $4,000 to support the Polsons. When the local chapter of the International Association of Fire Fighters organized a tee shirt sale to assist the Polsons, the six men worked to boost sales.
In June 2018, Missy's worsening condition meant she was confined to a wheelchair and could not maneuver the steps to her own home. Joe, Josh, Malcolm, Ryan, Jeromy and Joshua went to work. They spent their own money to buy the materials and then built a solid ramp and stairway. Their outpouring of support meant as much to the Polsons as the ramp itself! They knew they were not facing their crisis alone.
Joe, Josh, Malcolm, Ryan, Jeromy and Joshua set an example of what true brotherhood is about. They stepped up to the plate without hesitation and continue to show love and support to Captain Polson even after Missy's passing.
We salute these fine members of Missouri's fire service for their dedication to a fellow member of the fire service and the noble example they provided for all of us.