Amusement Ride Safety Program
Missouri's amusement ride safety program includes both scheduled annual safety inspections and spot inspections. Legislation to regulate amusement ride safety was first approved in 1997. Any owner of an amusement ride wishing to operate in Missouri must provide documentation to the Missouri Division of Fire Safety indicating that each ride operated by the owner has passed a safety inspection by a state approved inspector within the last 12 months.
The definition of an amusement ride has been amended to require the following to meet the annual safety inspection process to obtain a state operating permit:
Any mechanical device that carries or conveys passengers along, around or over a fixed or restricted route or course or within a defined area;
Any dry slide over 20 feet;
Any tram, open car, or combination of open cars or wagons pulled by a tractor or other motorized device, except hayrides and those devices that are used solely to transport patrons to and from parking areas or those used for guided or educational tours;
Any bungee cord attraction or similar elastic device;
Any climbing wall over 10 feet in height except for not-for-profit entities that follow the YMCA Services Corporation's Climbing Wall Safety Guidelines or the Boy Scouts of America Guidelines.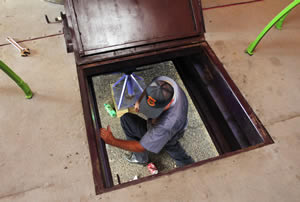 If safety issues that would pose a risk to the public are discovered during a spot inspection, the ride will immediately cease operation until the safety issue is corrected. Prior to the ride being allowed to operate, a safety inspection performed by division staff will be required and an inspection fee will be assessed based on a rate of $30.00 per hour.
Each amusement ride owner/company must file an itinerary with the Division of Fire Safety no less than 15 days before event dates.
The itinerary must contain the following information: (you will need to enter one for each location)
Name of amusement ride owner;
Name of carnival, fair, or activity sponsor;
Address and telephone number of the site or event sponsor;
Event date(s) open to the public;
Date of setup; and
Name of contact person on site.
(Follow on-screen instructions. A minimal convenience fee is applied based on method of payment. You may cancel prior to payment authorization.)
Laws and Regulations
Frequently Asked Questions