Thanksgiving Holiday Fire Safety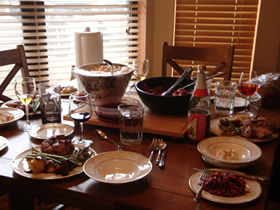 Thanksgiving, the day Americans gather with family and friends to celebrate, cook and eat, is the nation's leading day for cooking fires. According to the National Fire Protection Association (USFA), the number of cooking fires on Thanksgiving is three times as high as on any other day of the year.
In addition to the hazards posed by jammed stovetops and crowded kitchens, turkey fryers and candles contribute to the elevated fire risk on Turkey Day. Preventing fires is simple when following some basic precautions. Remember, while you should always have a fire-extinguisher nearby and know how to use it, don't delay calling 9-1-1. Ideally, use the extinguisher immediately, as someone else calls 9-1-1.
Stovetops and Ovens
Busy cooks can become distracted preparing several dishes at once while also trying to entertain guests. Cooking fires can easily be prevented by following a few simple precautions:
Start the holiday cooking with a clean stove and oven. Remove food and grease buildup from burners, stovetop, and oven.
Stay in the kitchen when cooking and don't become distracted by guests.
Stay in the home when cooking turkey, set a timer, and check on it frequently.
Keep children away from the stove. Preferably use the back burners.
Keep a flame-resistant oven mitt, potholder or lid nearby to smother any flames.
For an oven fire, turn off the heat and keep the door closed.
Have working smoke alarms in the home and have an escape plan that the entire family knows if there is a fire.
Turkey Fryers
Never use a turkey fryer indoors, in the garage or on a covered patio because of the fire hazard. Never overfill the oil in a turkey fryer. Many turkey fires occur while the oil is being heated. Units can easily tip over, spilling hot, scalding oil onto anyone or anything nearby, leading to fires, burns or other injuries. Since most units do not have automatic thermostatic controls, oil may heat until it catches fire. The sides, lids, and handles get extremely hot and may cause burns.
Safety tips:
Read and follow the manufacturer's guidelines.
Completely thaw the turkey.
Do not overfill the fryer with oil. Before dumping a few gallons of oil into the fryer, test it out with water. Place the turkey inside and then fill it with water until the bird is submerged. Remove the turkey and mark the water line on the fryer so you will know how much oil to put in the fryer.
Never leave the fryer unattended.
Keep children and pets well away from the fryer. Remember the oil will remain dangerously hot for hours.
Only use the oil recommended by the manufacturer. Different types of oil have different ignition temperatures.
Allow at least two feet of space between the liquid propane tank and the fryer burner.
Use well-insulated potholders or oven mitts; wear safety goggles to protect eyes from oil splatter.
If oil begins to smoke, immediately turn OFF the gas supply.
Keep an all-purpose fire extinguisher nearby.
Never use water to extinguish a grease fire.
Candles
According to the USFA, candles are responsible for an estimated 15,600 residential fires a year, causing 150 deaths, 1,270 injuries, and $539 million in property damage. More than half of candle fires are a result of a candle being placed too close to flammable holiday decorations. Always keep children in mind when decorating.