Holiday Fire Safety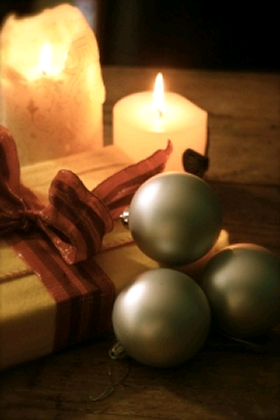 As families and friends come together to celebrate the holidays, it is important that they consider fire safety. The holiday season brings decorations, celebrations, and an increase in indoor cooking, all of which increase the risk of residential fires.
Each year, residential fires generally increase across the U.S. in December. According to NFPA, U.S. fire departments respond to an average of 240 residential fires a year caused by Christmas trees alone. The U.S. Commerce Department's National Institute of Standards and Technology has produced a video that dramatically shows the fire danger a dry natural Christmas tree creates. Once ignited, a dry Fraser fir bursts into flames in seven seconds, and is consumed by fire in slightly more than a minute. While a well-watered Fraser fir briefly ignites, the flame soon dies out—reducing the hazard. The video of the two trees, side-by-side, provides a stunning lesson about why keeping a Christmas tree moist can be a matter of life-and-death importance. View the video.
Candles are another potential fire hazard widely used during the holidays and other special occasions. According to the U.S. Fire Administration (USFA), candles are responsible for an estimated 15,600 residential fires a year, causing 150 deaths, 1,270 injuries, and $539 million in property damage. USFA adds that December is the peak month for home candle fires, with 24 percent of all candle fires occurring in December or January. According to USFA, more than half of these fires are a result of a candle being placed too close to flammable holiday decorations, such as Christmas trees.
The U.S.F.A. recommends these precautions around the holidays:
Don't use real candles as part of decorations and remember to always exercise basic safety when using candles throughout the home.
Never leave a lighted Christmas tree or other decorative lighting display unattended. Inspect lights for exposed or frayed wires, loose connections, and broken sockets. Do not overload extension cords or outlets and do not place an electrical cord under a rug.
Natural cut Christmas trees always involve some risk of fire. To minimize the risk, get a fresh tree and keep it watered at all times. Do not put the tree within three feet of a fireplace, space heater, radiator or heat vent.
Decorate with children in mind. Do not put ornaments that have small parts or metal hooks, or look like food or candy, on the lower branches where small children can reach them. Trim protruding branches at or below a child's eye level and keep lights out of reach.
Do not burn Christmas tree branches, treated wood, or wrapping paper in a home fireplace.
Declare the kitchen off limits to children and those adults not assisting with food preparation. A crowded kitchen can increase the danger of spills and burns.
Be prepared to deal with cooking fires. Remember to never put water on a grease fire.
Finally, the best way to protect loved ones in the event of a fire is to discuss fire safety and home escape plans. It is important to review fire escape plans with any overnight guests during the holiday season in case of an emergency.